Organic Letters 2015 Author of the Year


Dr. Mingji Dai Wins 2015 Organic Letters
Outstanding Author of the Year Lectureship Award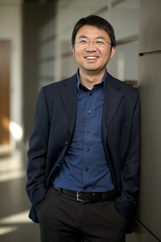 The ACS Division of Organic Chemistry and Organic Letters are proud to announce Mingji Dai , Purdue University, as the winner of the 2015 Organic Letters Outstanding Author of the Year Lectureship Award. Dr. Dai was nominated for the divergent total synthesis of monoterpene indole alkaloids. Dr. Dai will be presented with an award at a symposium in his honor at the fall ACS National Meeting, August 16-20, 2015 in Boston, Massachusetts.

Dr. Dai's letter describes the total synthesis of a family of monoterpene indole alkaloids with diverse structural skeletons. The key steps in the synthesis involved a Witkop-Winterfeldt oxidative indole cleavage followed by a transannular cyclization to produce a critical intermediate, which was then advanced to seven monoterpene indole alkaloids via a functional group pairing strategy. This strategy may find broad application in divergent synthesis of other important natural products. The synthetic route may enable researchers to use the indole alkaloids for anticancer drug discovery.
View the Outstanding Article:
Biosynthetically Inspired Divergent Approach to Monoterpene Indole Alkaloids: Total Synthesis of Mersicarpine, Leuconodines B and D, Leuconoxine, Melodinine E, Leuconolam, and Rhazinilam
Yang Yang , Yu Bai , Siyuan Sun , and Mingji Dai
Department of Chemistry and Center for Cancer Research, Purdue University
Org. Lett., 2014, 16 (23), pp 6216-6219


DOI: 10.1021/ol503150c
Copyright © 2015 American Chemical Society, All rights reserved.