A Message from the Chair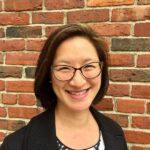 Dr. Katherine Lee
2018 Chair, ACS Division of Organic Chemistry
Pfizer
1 Portland Street
Cambridge, MA 02139
katherine.lin.lee@gmail.com
Greetings! My name is Katherine Lee, and I am delighted to serve as the Chair of the ACS Division of Organic Chemistry in 2018.
Who are we? The DOC, also known as ORGN, is a vibrant, diverse technical division of the ACS. We are the premier society for organic chemists, at over 10,000 members strong. Our mission is to foster and promote the advancement of the field of organic chemistry. We embrace the interdisciplinary nature of organic chemistry and strive to be open and engaging in our efforts.
What does the DOC do?
Organize and sponsor ORGN programming at each ACS National Meeting and Exposition, including special symposia, award symposia, and poster sessions, including a popular joint poster session with MEDI. Over 800 abstracts are submitted for each of the two annual ACS National Meetings!
Organize and sponsor symposia at regional ACS meetings.
Produce the National Organic Chemistry Symposium (NOS), a premier organic chemistry meeting held every other year.
Support organic chemistry symposia, including the Cope Scholar Symposium, at ACS Regional Meetings.
Provide opportunities for undergraduate chemists, for example, via Summer Undergraduate Research Fellowships (SURF) and travel awards.
Organize and support award programs, such as the Technical Achievement in Organic Chemistry (TAOC) Awards and the Young Investigator Program for industrial chemists; the Academic Young Investigator's Symposium (YAS) for junior faculty; and the Gassman and Leete Awards.
Finance and provide Travel Awards for undergraduates, graduate students, and faculty at predominantly undergraduate institutions to travel to ACS National Meetings.
Visit our website for more information: https://www.organicdivision.org/
Why should you join the DOC?
Exclusive member benefits include access to the Members Only section of our website, for networking and members only chemistry discussions; and videos of selected National Organic Chemistry Symposium (NOS) presentations.
Additional exclusive member benefits include discounted general registration for the NOS; discounts for the purchase of books from selected publishers; electronic access to the abstract book of papers presented in the ORGN Division at ACS National Meetings; and receipt of DOC emails with news as well as reminders of important deadlines.
Your annual dues ($15 for regular members, $5 for students) help us, as a non-profit organization run by volunteers, to support our mission and run the excellent programs described here.
Join the DOC here.
How can you get involved in the DOC? We are a volunteer organization and encourage you to get engaged. Attend or submit an abstract to present at ORGN sessions at ACS National Meetings.  Submit a symposium proposal for an ORGN session at an ACS National Meeting or an ACS Regional Meeting. Nominate someone for a DOC professional, student and postdoc, or publication award (See Awards & Fellowships). Attend the 2018 Graduate Research Symposium and the 2019 National Organic Chemistry Symposium. Volunteer to run for an elected position on the DOC Executive Committee (contact our Chair-Elect, Dr. Jeffrey Aubé, jaube@unc.edu). Help us with our social media presence. Submit a graphic for a Featured Reaction on our website.
For more information, see volunteer opportunities on our website or contact us.
I look forward to serving you, our organic chemistry community.
Dr. Katherine Lee