A Message from the Chair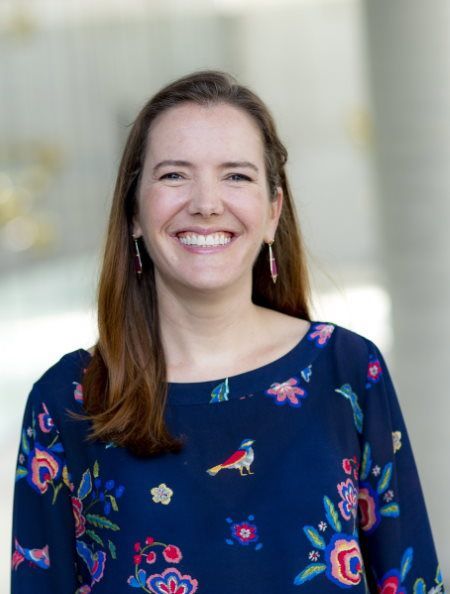 Dr. Katherine N. Maloney – Chair 2023
Professor of Chemistry
Point Loma Nazarene University
4900 Lomaland Drive
San Diego, CA 92106
Tel: 619-849-3425
kmaloney@pointloma.edu
Greetings from the ACS Division of Organic Chemistry (DOC)! I'm excited about all we've accomplished this past year, and for the big things we have coming down the pike in 2023. But before I get to that, I first want to make a request…
We need YOU! The mission of the DOC is to foster and promote the advancement of the field of organic chemistry. Did you know that the Division of Organic Chemistry is an entirely volunteer-based organization? That means all the work of organizing and implementing DOC programming (including ORGN programming at ACS National Meetings, NOS, GRS, DOC Virtual Symposia, EWOC,…), selecting and administering the multitude of DOC professional, student, and publication awards (see awards menu for the extensive list), and the day-to-day operations of the division, is done by organic chemists like you.
We know that many hands make light work, and that diverse voices help organizations make better decisions. We need your unique experiences, skills and perspective if the DOC is going to thrive in 2023 and beyond!
Whatever your prior level of involvement in the division, I hope you will consider increasing your participation in 2023:
Level 2: Attend a DOC event. We'd love to see you in person this summer at the 2023 NOS at Notre Dame (July 9-13), GRS at Montana State University (July 20-23), EWOC conference in Thousand Oaks, CA (June 23-28), or at ORGN sessions at the National ACS Meeting in Indianapolis (March 26-30) and San Francisco (August 13-17). If travel isn't an option this year, join us from the comfort of your home or office for an exciting slate of DOC Virtual Symposia.
Level 3: Nominate someone (or yourself!) for an award. The DOC has a menu of awards and fellowships to recognize organic chemists in academia, industry and government, at every level of education and career stage. (You can find it at the top level menu of any page of the DOC website.)
Level 4: Volunteer with the DOC. There are so many ways to get involved – from chairing a symposium, to reading award nominations, to running for a seat on the Executive Committee. Fill out this short form to help us match your skills, experience, and availability to current DOC needs.
DOC Highlights from 2022:
In 2022, the Division returned to mostly in-person programming and members were here for it, with record numbers of abstracts and attendees. Where possible, the DOC also maintained virtual programming options, to be inclusive of those unable to travel.
Reflecting broadly on the past year, I want to express my deep gratitude to the recent division leadership, especially 2022 Chair Lamont Terrell, who steered us back out of the fully virtual world to something approaching normalcy. I'd also like to thank the many diligent record-keepers of the division, especially long-time webmaster Brian Myers and Secretary Scott Sieburth. It's difficult to express how disruptive a two-year break from in-person meetings is to the function of a volunteer organization like the DOC. The institutional knowledge of the DOC took decades to build, and could easily have been lost forever if it weren't for their heroic efforts.
Looking ahead to 2023:
The DOC has lots of really exciting programming and changes coming in 2023! Here are just a few things to look out for:
The Technical Achievement Awards (TAOC) have outgrown their origins, prompting a split to Early- and Mid-career TAOC tracks in 2023. Nominate a deserving BS or MS-prepared chemist working in industry or government by January 20!
We heard you! In response to inflation and rising costs, we've raised SURF fellowship amounts from $5,000 to $6,000. Apply by February 15.
The National Organic Symposium returns to its usual odd-year cycle, with NOS 2023 at Notre Dame, featuring Roger Adams awardee (and 2022 Nobel laureate) Carolyn Bertozzi.
Even as we've returned to mostly in-person programming, the DOC is doing its best to keep some virtual options open for our international members and others for whom travel may not be an option. To adapt to the challenges of virtual programming, the EC modified the program committee structure, adding a Past Program Chair position to help with organizing virtual symposia. For 2023, we are delighted that Steve Silverman agreed to serve in this role, as Emily McLaughlin assumes the mantle of new Program Chair, and Scott Bagley steps into Program Chair-Elect.
Lastly, as a professor at a small PUI in a research field slightly outside the mainstream DOC fare, I want to especially welcome those of you who are a little unsure whether you belong here. The Division of Organic Chemistry needs you, and is delighted to welcome you in! Please join us, and help us advance the field for all organic chemists!
Sincerely,
Katherine
Katherine N. Maloney, Ph. D.
Chair, ACS Division of Organic Chemistry