Summer Undergraduate Research Fellowships (SURF)



2019 Sponsors: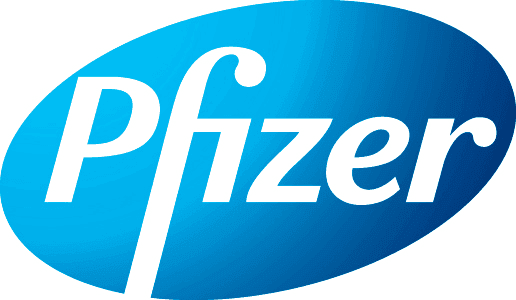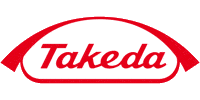 Purpose
To provide funding for summer research opportunities for outstanding undergraduate organic chemistry students attending colleges and universities in the United States.
Nature
These competitive fellowships ($5,000) are awarded on the merits of students' research proposals, academic records, faculty recommendations and their passion for laboratory science. SURF fellowships will provide support for undergraduates in organic chemistry to carry out research at their respective colleges/universities in the summer between their junior and senior year. In addition, the program will provide financial support to enable recipients to visit an industrial campus in the fall for a dinner, award session, scientific talks, a tour of the campus and a poster session, where the results of the summer research investigations would be presented. Information on the program and application forms are available below.
History
The program was established in 2009. The complete list of Previous DOC SURF Awardees is available
Support
Donations from companies and individuals for the Organic Division's SURF Program is strongly encouraged. Please contact Michelle Tran-Dube  make an inquiry on how to support this rewarding program.
The 2019 DOC SURF Awardees

| | | | |
| --- | --- | --- | --- |
| Student | School | Mentor | Sponsor |
| Yotam Ashkenazi | University of Connecticut | Prof. Mark Peczuh | Pfizer |
| Roukaya El Mokadem | Oklahoma State University | Prof. Jimmie Weaver | Celgene |
| Clara Ellis | University of Southern Mississippi | Prof. Matthew G. Donahue | Vertex |
| Montgomery Gray | Ohio State University | Prof. T. V. (Babu) RajanBabu | Takeda |
| Christopher Hanneman | University of Illinois at Urbana-Champaign | Prof. Scott Denmark | Lilly |
| Yelin Jung | Bryn Mawr College | Prof. Bill Malachowski | Pfizer & Biogen |
| Austin King | Michigan State University | Prof. Robert E. Maleczka, Jr. | Merck & Janssen |
| Amanda Melanese | California State University San Marcos | Prof. Robert Iafe | Pfizer |
| Kellie Stellmach | Macalester College | Prof. Dennis D. Cao | WuXi AppTec |
| Jordan Thompson | University of California, Berkeley | Prof. Thomas Maimone | Merck |
| Joey Tuccinardi | Boise State University | Prof. Don Warner | Pfizer |
| St. John Whittaker | University of Scranton | Prof. Arthur Catino | Pfizer & Mirati |
Selection Criteria:
Fellowship recipients will be selected by an Advisory Committee using the following criteria:
Demonstrated interest and talent of the student in organic chemistry
Merit and feasibility of the research project
Commitment of the faculty mentor to support the student in his/her work
Academic record, particularly in organic chemistry and related sciences.
Demonstrated importance of the award in facilitating the personal and career plans of the nominee.
A Faculty advisor may not have two awardees within a three year period
Nomination process
Nominations from women and minorities who are typically under-represented in chemistry are especially encouraged. 
The faculty mentor (who must be a member of the Organic Division) must submit the completed SURF Application and the requested documents through the online application form as a single PDF file consisting of the following items in the following order:
The completed "Student Application Cover Sheet" (page 1 of the SURF Application as a docx file)
A statement from the nominee describing the importance of this opportunity to his/her personal and career plans (typically 1-2 paragraphs). Indicate how a summer research project fits into your long-range plans. Provide any background about yourself and/or your personal or professional goals that you would like us to know.
A description of the proposed research project, authored by the student in collaboration with the faculty mentor (typically 2-5 pages). Describe the project you propose to undertake next summer. Describe your background that has prepared you to do this work and your proposed methodology. Provide as much detail as possible.
An unofficial transcript of the nominee and a list of courses to be taken during the rest of the current application year.
The completed "Faculty Mentor Cover Sheet" (page 2 of the SURF Application as a docx file)
A letter of recommendation from the faculty mentor on the qualifications of the nominee to carry out the project successfully.
The completed "Department Chair/Head Cover Sheet" (page 3 of the SURF Application as a docx file)
A brief letter from the Department Chair indicating that the student is a departmental nominee (there may be no more than 2 nominees per department, and no more than 1 nominee per research group) and that the department will provide the necessary equipment, space and administrative support to the project. In the event the faculty mentor is also the department chair, then the faculty member's immediate supervisor should complete this form.
Student nominees should be U.S. citizens or permanent resident visa holders at the time of application. Applications from minorities are especially encouraged. This program targets current Juniors and they will be given preference. Seniors are not eligible for these fellowships. Student may not hold a DOC Summer Undergraduate Research Fellowship concomitantly with a similar fellowship from another source. The student nominees are required to be members of the ACS and the Organic Division (their ACS number will be requested). Information on becoming a member of the Division can be found here. Please be sure the nominated students do not have fall travel/study commitments (i.e. study abroad) that conflict with the poster session, scheduled for September/October.
Applications are to be submitted by the Faculty Mentor who must be an Organic Division Member as a single PDF file (named using the format: StudentNominee'sLast Name_First Name-SURF.pdf i.e. Smith_Jane-SURF.pdf) through this online form  SURF
Application Deadline is Friday, February 1, 2019.
Applications submitted late, via mechanisms other than the online form, or out of order (as described above) will be disqualified.
Announcement of the awards is typically made in March.
Questions regarding the program should be directed to Michelle Tran-Dubé
---
Testimonials
2018 SURF Awardee-Matthew Thompson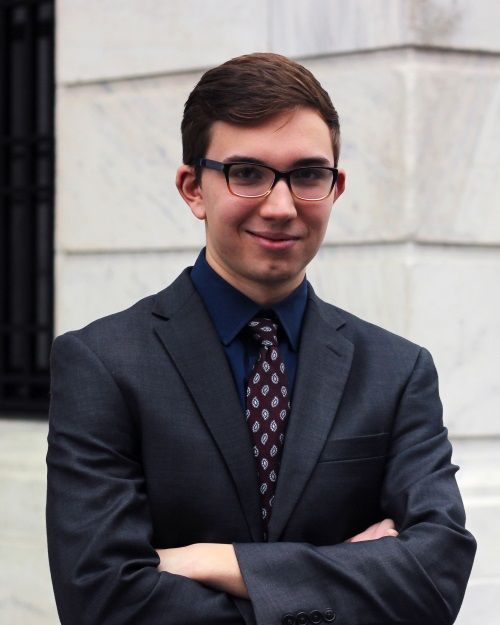 My research background prior to this summer had been largely in genetics and chemical biology. Through the SURF program, however, I was able to delve deeper into medicinal chemistry, synthesizing a library of electrophilic small molecules and assessing the ability of these compounds to selectively engage protein targets. The generosity of SURF's sponsors allowed me to further my expertise in proteomics and organic synthesis, invaluable skills as I hope to pursue a career in drug development, optimization, and target identification.
The Pfizer site visit was an incredible opportunity to talk with scientists who shared my own research interests, and allowed me to learn about drug development from an industry standpoint. As someone who has only ever worked in an academic setting, I found it really beneficial to learn how the same goals that we strive for in my lab at Case Western Reserve University are pursued in pharmaceutical industry. The lab spaces we toured were truly incredible, and I'm grateful to all the scientists and staff at Pfizer who took the time to speak with us and tell us more about their work. At the poster session, it was great to see the work that the other fellows had done that summer–seeing the diversity and depth of their research projects reminds you how your knowledge and expertise lie within a thin slice of the field and reinforces the need for collaboration in science as we hope to discover new therapies that continue to improve patient lives.
2018 SURF Awardee-Elise Brutschea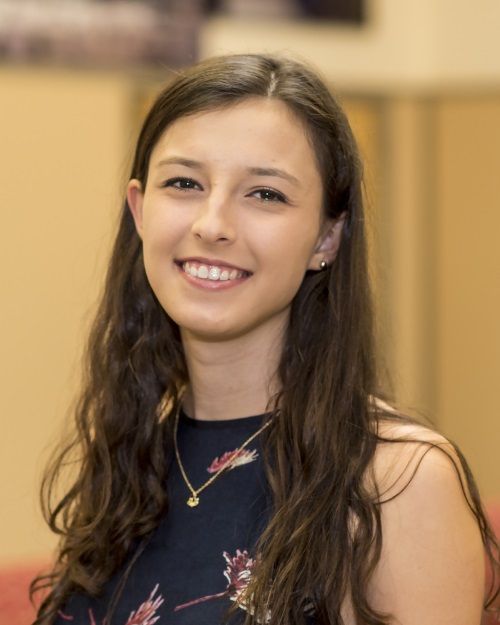 The opportunity to conduct a summer research project allowed me to explore my passion of chemistry. This summer, I have developed a love of learning through research and have solidified my goal of a professional career in chemistry. This summer has also especially helped me appreciate the amount of effort that goes into scientific discovery.
The visit to Pfizer's Groton campus was incredible. Not only did we learn more about Pfizer and Pfizer's scientists, we also had the opportunity to present our summer research projects. This poster presentation gave me a lot of ideas and advice to develop my summer project into a senior thesis project. The ability to communicate with and learn from other chemists was very educational and was an unparalleled experience.
2018 SURF Awardee-Gina Partipilo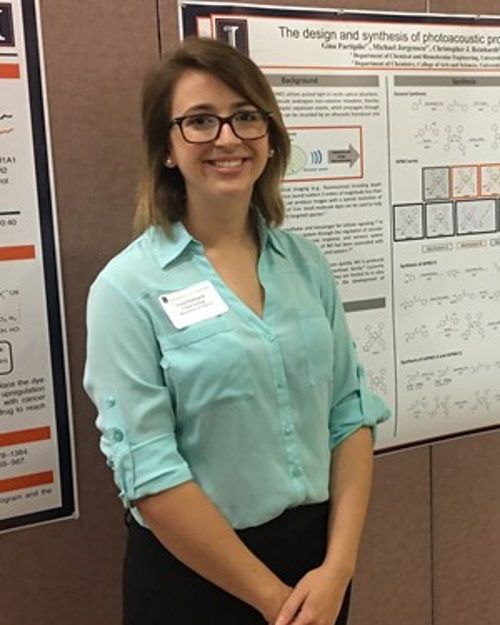 The SURF program allowed me to lead a research effort for the first time. This has taught me not only fundamental chemistry skills, but the soft skills involved with leading a team and the organizational skills necessarily for driving research forward. I would not have had this opportunity if it was not for SURF.
Performing summer research has taught me how to form and adjust a research plan. I have learned how to try new reactions and interesting paths to my target molecule, and fail magnificently. The key was then to go back and try something new until I found something that worked. Having the time in the summer to learn how to look a plan, scrap it, and start fresh was a valuable experience, and these are skills that I will be able to carry with me later in life.
The site visit was a fantastic look into the world of Pfizer. The technology and methodology was fascinating and scientists were both knowledgeable and passionate. The most impactful thing, for me personally, was the advice and mentorship offered by the chemists working at Pfizer. They were truly interested in talking to young chemists and offering their advice about careers, graduate school, chemistry and so much more. I found that the insights they have given me have helped a great deal in the graduate school application process.